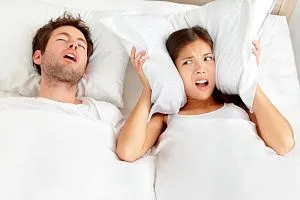 As a member of the American Academy of Dental Sleep Medicine (AADSM)-- the only national, non-profit society dedicated exclusively to the practice of dental sleep medicine-- Dr. Murphy & Associates has the working knowledge and clinical experience to treat snoring and obstructive sleep apnea through several options in dental appliance therapy that work as easy as sleeping with a small, portable, plastic device in your mouth (like a sports mouth guard or orthodontic retainer). All dental appliances are custom made, custom fitted and FDA approved. No bedside machines at night. No uncomfortable, restraining masks. No surgery. Plus, oral appliance therapy is often covered by medical insurance.
Dental appliances are an effective alternative treatment to the continuous positive airway pressure (CPAP) machine and mask that is traditionally prescribed for sleep apnea. Not only can these mouthpieces be used as stand alone therapies, but also used in conjunction with CPAP in order to provide a variety of personalized treatment solutions. Especially given the benefits of dental appliance therapy, many patients prefer these mouthpieces because they are comfortable, easy to wear, quiet, portable (for travel) and easy to care for.
But our comprehensive treatment services can begin at the very start: with the diagnosis of sleep apnea. You either can visit our office with a previously diagnosed level of sleep apnea-- or-- we can determine that level of apnea for you, too
As opposed to having to spend the whole night at a sleep laboratory in order to determine the level of apnea, our office is fully equipped to provide a kit that you, instead, take home to record the necessary diagnosis information while you sleep in the comfort of your own bed!


Here is how our at-home diagnostic system simply works:
* Complete a written sleep-screening form. Your information provides us with potential indicators for potential snoring or sleep apnea.
* Depending on the results of your screening, a sleep-record appointment could be made. This appointment includes an examination of the inside and outside of your mouth, x-rays (if needed), a few photographs, measurement of blood pressure, and measurements of nose and throat airways that are as quick, easy and non-invasive as merely breathing normally through a recording tube. You will also be given a device to take home that evening which will make measurements while you sleep in the comfort of your own bed.
* The next morning, return the device. We will then download and analyze the data, from which a sleep physician (M.D.) will diagnose the level of your apnea (mild, moderate, or severe). From that diagnosis Dr. Murphy will begin to choose a recommended dental appliance therapy.
* Come back again and we'll meet with you to discuss the results and to decide which of the many dental appliances is best for you. * Begin on the path to better, healthier sleep.