Microscopes in Periodontal Therapy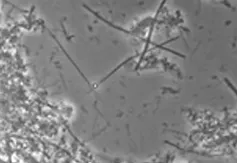 The microscope was invented in the 1700's and has proved beneficial in many aspects of medicine. In Dentistry, we know that dental disease occurs when there are harmful bacteria present in the mouth. In many cases, these bacteria are not detected since most dental offices are not testing for them. Early detection of dental disease can often prevent permanent damage.
Our office has used phase contrast microscopes for many years, detecting the harmful bacteria that are associated with periodontal disease. Identifying these harmful pathogens, we are able to treat the disease (infected gums, bone loss around the teeth and increased systemic inflammation) and educate our patients, helping them to achieve a healthy mouth and improved overall health.
Our highly skilled dental hygienists use a phase contrast microscope to see if the disease-causing bacteria are present at your routine visits to determine if professional and homecare techniques are working using science. Wouldn't you like to know!
It is so important to have a healthy mouth because it contributes to optimum overall health. It is our goal to help our patients achieve this!